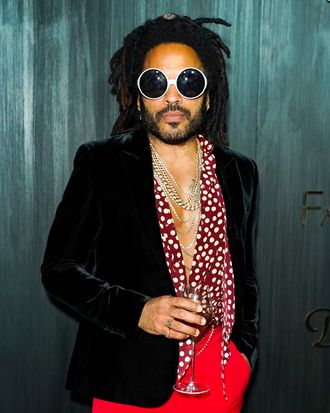 ere's a question: Why doesn't Lenny Kravitz have a lifestyle brand? Based on his latest Instagram, a dispatch from a kitchen more aspirational than all Nancy Meyers movies combined, a Goop-esque empire is in order.
Let me set the scene: Lenny and his abs have just been up all night recording not one, not two, but three albums. He makes a quick pit stop in his blonde-wood-lined kitchen, which is stocked up the wazoo with fancy spices and also, inexplicably, a large palm frond. Putting on a pot of water in his design-y kettle, he grabs his shiny little espresso machine and scoops some freshly ground local beans into the chamber. Et voilà, a lifestyle influencer is born.
If anyone can go toe to toe with Goop, it's this leopard-print-clad man. Personally, I would be overjoyed to spend my last 17 paychecks purchasing Lenny Kravitz's beautiful moka pot as well as his kettle, mortar and pestle, and upscale kitchen speakers. I would also like to know where he acquired his shirt, which is probably spun with the silk threads of one thousand golden spiders.
You know who else would like to know? Channing Tatum, who is currently dating Lenny's daughter and commented on the post inquiring how his potential father-in-law acquires such an, ahem, absolutely ripped physique. Obviously, Kravitz's lifestyle blog will need to include a wellness section focused on how to chisel one's own abdominal muscles.
Other potential facets of a Lenny Kravitz lifestyle brand, just off the top of my head: a podcast where he and Jason Momoa discuss belt buckles, a roundup of Lenny's favorite hot-sauce-and-landline pairings, and a vlog where he teaches Channing Tatum how to lift. Maybe even … a guide to genital jewelry?
If you, too, would like to look, eat, drink, smell, and cook like Lenny Kravitz, please join me in urging him to launch a lifestyle empire.