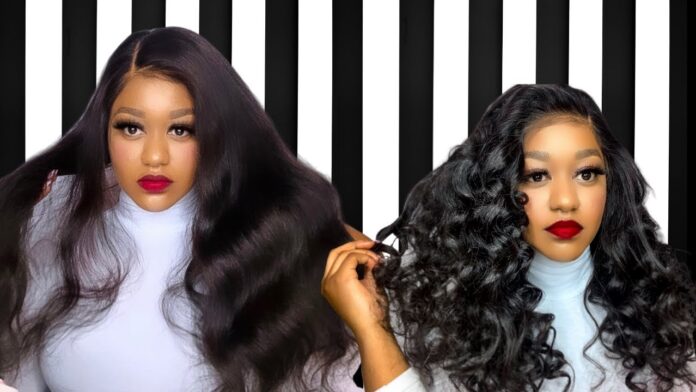 Straight wigs have had a fair share of the market. And it's because many trust them to deliver sleek styles even with a lazy blowout. It is uncommon to look in the direction of straight wigs since waves create an impression of difficult maintenance. Little do many know that behind the curls lies versatility and easy maintenance.
Deep curly wigs blend seamlessly with many outfits and can be worn to virtually all occasions. You can twist them to fit special occasions perfectly, thanks to the natural looks and density. Pre-plucked baby hair adds the sizzle. It works like a charm by adding glamour to your looks. You can step out feeling refreshed and confident to conquer your obstacles.
And if you value complements, you're sure to earn tons of them flaunting a deep curly wig. It is lightweight, soft to touch and tangle-free. But before spending your hard-earned money on a wig, tread carefully to be sure it returns a value. As such, the right piece doesn't try to sell hard but embraces some subtle features worth paying attention to.
Authentic deep curly wigs are 100% human hair
A synthetic fibre looks good, but it gets kinky as time goes by. You'll want your wig to withstand frequent styling and remains vibrant in the process. It is easier to maintain curls and even dye if you desire when your wig adopts 100% human hair. Better still, human hair blends well with your skin type without leaving a hint of you wearing a wig.
It shouldn't be a daunting task to separate a synthetic wig from a human hair one. Running your fingers through it is the greatest bet you can rely on. Human hair is soft and quickly falls back to its original state, while the synthetic counterpart returns a rough feeling and struggles to retain the fine arrangement aftertouch.
Synthetic deep curly wigs lack versatility
We are living through times where technology plays a fundamental role in transformation. And when it comes to beauty, you can't underestimate how much it has transformed the sector. Currently, you'll find fine sleek wigs on the shelves, and without a keen eye, it isn't easy to distinguish a human hair wig from a synthetic wig.
Albeit experts will tell you human hair wigs carry distinctive features, the startling resemblance tends to stand in the way. But here is a pro tip for you;
Synthetic wigs have pronounced waves that are hard to dismantle. It is ready for wear as it requires little effort resetting. It means you have little room to twist the waves to suit your needs.
Beauty geeks with a knack for fine details know where the thin line separating the two worlds cuts. Human hair wigs come with flexibility. They embrace soft and bouncy waves that respond to flat-iron and a quick blow-dry. And With this in mind, you'll want to land on an original piece rather than an imitation.
Deep curly human hair wigs give your hairline a natural look
The thought of flaunting curly hair creates an illusion of untidiness and beyond reach care that threatens uniqueness. Far from it, stylish wigs pack the authenticity you desire. They feature a neat hairline to enhance it with baby hair.
With a little bit of creativity, it adds charm to your looks and gives you a unique style that lets you stand out from the crowd. And the best part is it allows you to pull many styles that pair well with various accessories.
The bottom line
Gone are the days when curly wigs received little attention. They are making a grand entry with a bang. It is because they are super versatile and easy to maintain. And the curls make a world of difference, adding charm and creating a youthful feel. More so, they are voluminous, so you don't have to try hard to find products that induce volume.